Incogniton allows you to create multiple accounts at the same time. The tool is pretty advanced and allows for a lot of customization.
How to use the bulk create profiles feature #
The tool can be started by pressing "Bulk create browser profiles" in the left menu.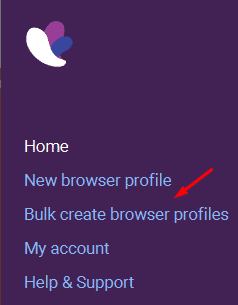 This window will open:

The first line of the content box should be the names of the settings you want to change, delimited with a ";". The header options are shown in the table at the bottom of the page.
Example header:
profile_name;profile_notes;profile_group;simulated_operating_system;Proxy_connection_type;Proxy_proxy_url
Tip: It doesn't matter if the headers are in lower or upper case.
An example input line below the header would be:
Example profile;Example import;bulk accounts;Windows;http;123.456.789.000:3125
The excel from the video can be found here:
https://incognitondownload.s3.us-east-2.amazonaws.com/etc/bulkimportexcel.xlsx
Video showcase of bulk creating new browser profiles in Incogniton:
Options table:
| | |
| --- | --- |
| Option Name | Possible values |
| profile_name | Any text (REQUIERED) |
| profile_notes | Any text |
| simulated_operating_system | Windows/Mac OS/Linux |
| Proxy_connection_type | http/socks4/socks5/none |
| Proxy_proxy_url | Any text |
| Proxy_proxy_username | Any text |
| Proxy_proxy_password | Any text |
| Timezone_fill_timezone_based_on_ip | true/false |
| Timezone_timezone_name | Any valid timezone name |
| WebRTC_set_external_ip | true/false |
| WebRTC_behavior | altered/disabled/real |
| WebRTC_public_ip | Any IP |
| WebRTC_local_ip | Any IP |
| Geolocation_behavior | block/allow/prompt |
| Geolocation_fill_geolocation_based_on_ip | true/false |
| Geolocation_location_information_longitude | Any double between -180 and 180 |
| Geolocation_location_information_latitude | Any double between -90 and 90 |
| Geolocation_location_information_accuracy | Any positive integer |
| Navigator_user_agent | Any text |
| Navigator_screen_resolution | Example: 1980×1080 |
| Navigator_languages | Any text |
| Navigator_platform | Any text |
| Navigator_do_not_track | true/false |
| Navigator_hardware_concurrency | 2/4/6/8/16 |
| Fonts_enable_font_list_masking | true/false |
| Fonts_browser_font_list | font list splitted by comma |
| Media_devices_enable_media_masking | true/false |
| Media_devices_video_outputs | Any positive int |
| Media_devices_audio_inputs | Any positive int |
| Media_devices_audio_outputs | Any positive int |
| Hardware_Canvas_behavior | noise/block/off |
| Hardware_AudioContext_behavior | noise/off |
| Hardware_WebGL_image_behavior | noise/off |
| Hardware_WebGL_meta_behavior | mask/off |
| Hardware_WebGL_meta_vendor | Any text |
| Hardware_WebGL_meta_renderer | Any text |
| Other_active_session_lock | true/false |