Affiliate marketing is an excellent way to earn income. However, many affiliate marketers face multiple issues — ranging from the product of choice, chargeback, payout, traffic quality, analytics, and Geo-coverage with their chosen affiliate networks.
Everad offers an all-in-one solution to these issues with its excellent Nutra affiliate network that prioritizes the needs of marketers over everything else.
Read on to learn more about the wondrous packages and features of the Everad network.
Why choose Everad?
With a market presence of over ten years and counting, Everad's affiliate network accepts traffic for its own Nutra offers, along with impressive payouts for marketers.
One reason why you should choose Everad is that it's not like the other affiliate networks. Indeed, it's more than just an affiliate program, as it has its own logistics system, call center, offers, and research and development section.
In other words, Everad is vertically-integrated and manages all the operations involved in the Nutra industry. As previously emphasized, Everad comes up with unique offers (generally high demand) and secures top-level approval ratings. This goes without saying that the payouts are guaranteed to impress.
Other affiliate networks may offer limited GEO coverage, focusing on specific countries and local areas. While this may work for some affiliate marketers, worldwide GEO coverage is generally the best option for marketers, and Everad makes provisions for this. 
Everad currently has more than 400 offers for over 45 GEOs in Latin America, Asia, and Europe across the e-commerce, Nutra, and health and beauty niches. 
If you're wondering about Everad's payouts, here's something to pique your interest- they're regularly as high as $49. The reason is simple- Everad is a direct advertiser.
Everad sells in-house offers, and their many years of industry experience have increased approval rates across different regions.
Everad: Overview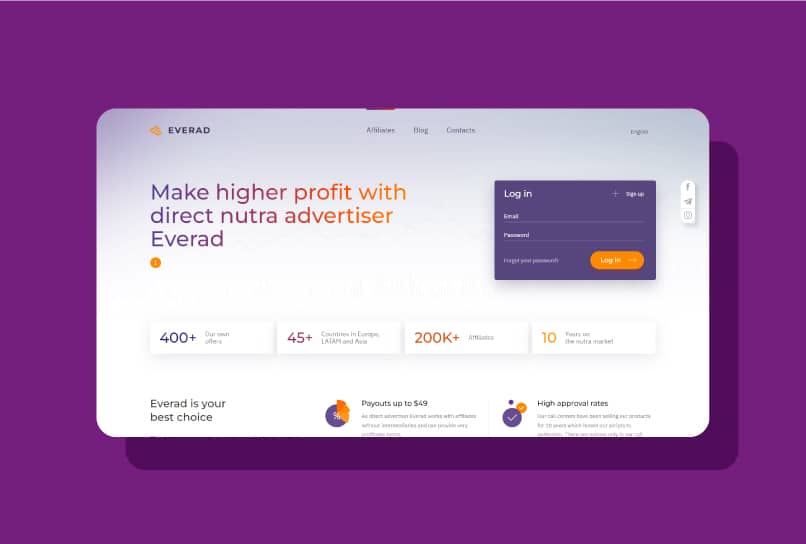 The first thing you should know about Everad is that it's a direct advertiser.  In many ways, direct advertising is the same as affiliate marketing, but with a few differences.
Most affiliate marketing networks are secondary advertisers. That is to say that they do not own the offers or products that they promote. Instead, they are solely marketing networks that advertise and attract leads to brands for conversion. As a result, their offered rates are low compared to direct advertising. 
This is because the affiliate program itself takes a cut from the payment made to the affiliate marketer. 
In direct advertising, such as Everad's affiliate program, the rates are higher, and the range of offers is much more comprehensive, meaning that you can choose the niche you feel is your strongest and begin working on it. 
Getting into Everad's affiliate program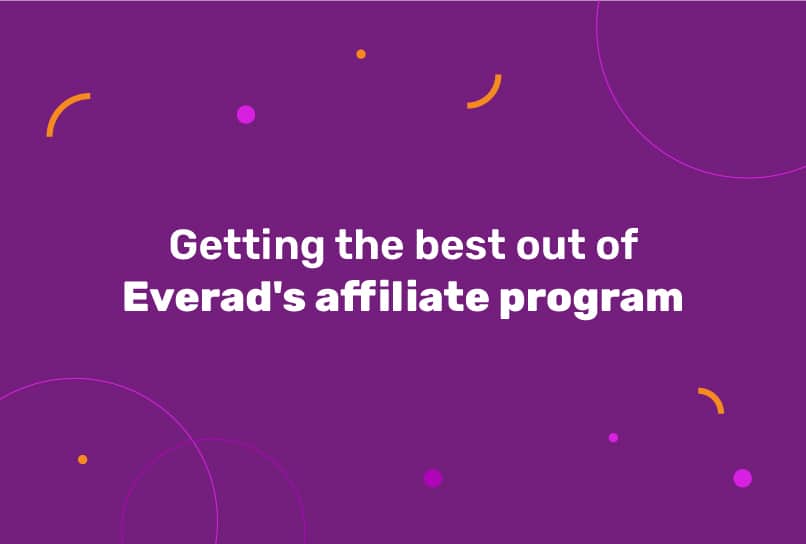 Advertisers generally use one of the following three affiliate models:
Trials

Cash on Delivery

Straight sales.
Everad operates on the COD (Cash on Delivery) model. Here, the customer doesn't pay when they order. Instead, they leave their contact details to have the advertiser confirm the delivery over the phone. After the customers confirm the order, affiliate marketers can receive their cut.
Although this model is not as popular as the trials model, it inspires the most trust among clients and allows affiliates to start campaigns with impressive conversion rates. 
Below are highlighted the steps to get into Everad's affiliate program:
Registration
Unlike other affiliate marketing programs with complex procedures, needless forms, and multiple button clicks, registering on Everad is quite easy. 
All that's required is to fill out a single form, and voila! An assigned account manager activates your account. 
Access dashboard
On your new dashboard, you get access to several features, such as:
Analytics and Reporting

Offers

Flows

Tools

Bundles

Contact
All platform-related questions can be directed toward your manager via the contact option. 
Offers and regions
Before selecting offers, you should view the GEO selection and request tips from your manager. If you feel confident enough, you can rely on your own knowledge of the regions.
When selecting offers, you may want to stick to Latin America and Eastern Europe as they're high-performing regions for Nutra sales. 
You're also advised to read Everad's article on first offers for beginners to help you select the best products. 
Payouts
After choosing your preferred withdrawal method, you can check how much you've earned and withdraw your funds anytime via the "Finance" section. Withdrawal methods available include WebMoney, bank transfers, bank cards, Capitalist, and ad network balances.
Tech support
Your personal account manager isn't just responsible for helping you set up your Everad account after signing up. They also provide 24/7 support (between 10:00 and 21:00 Kyiv time).
They're also responsible for providing feedback via the ticketing system and are on hand to help you out and make your affiliate business thrive with Everad. 
In addition, you can forward your inquiries to the following online channels:
Getting the best out of Everad's affiliate program
The Nutra niche is one of the most popular and beginner-friendly industries for affiliate marketers to get into. In fact, Nutra products have closer links to affiliate marketing than any other niche.
Getting the best out of Everad's affiliate program relies on your chosen subcategory. There are multiple offer categories, all constantly updated with new products. Some other products are for slimming and weight loss, while others are for rejuvenation, strengthening, and remedies.
Whichever option you choose, you must be able to drive significant traffic. Nutra products and offers do well as Google Ads, email, and Facebook ads. When choosing your preferred online traffic source, see the options available, including banned channels. 
Although Everad offers flexibility in affiliate marketing strategy, you should always try to avoid motivated traffic and other fraudulent shortcuts. With an anti detect browser like Incogniton you can be extra safe. You can visit this page if you want to learn more about using Incogniton as an affiliate marketeer.
Conclusion
Everad's direct advertising approach to affiliate marketing is an interesting one for affiliate marketers, as it means higher payouts and a wider range of products and offers to choose from.
While these products are primarily in the Nutra niche, marketers can be guaranteed of a thriving business given the popularity of Nutra products.
Registering on Everad is easy, and with the dedicated account manager and multiple open contact channels, Everad looks to guide affiliate marketers throughout their journey, providing assistance at every step of the way. 
Anti-Detect Browser for Multi-Account Management
Manage unlimited virtual profiles for easy multi-account management. Safe and anonymous. Ideal for teams and individuals. Download and try for free now!