As an internet user that values privacy, there are several solutions you could adopt to grant you the much-needed anonymous access to the internet — one is Dolphin Anty. However, these solutions all work differently, and you might be hard-pressed to find one that suits your precise needs.
For instance, some software tools might provide you with anonymity while browsing, but at the expense of your sensitive details being logged by third parties. Other solutions might provide a way to bypass geo restrictions effectively but lack enough sophistication to prevent your IP from being blocked.
More specifically, users have reported issues concerning Dolphin Anty's user experience and customer support.
What, then, is the ultimate solution?
In this article, we take an extensive look at the best Dolphin alternatives while explaining every key term and feature in detail. Whether you are new to anti-detect browsers or you're a seasoned user searching for the best option in the market, this piece has something for you.
Let's dive right in!
What is Dolphin Anty?
Dolphin Anty is an anti-detect and multi-login browser that lets users surf the web anonymously with several profiles, all from one device. Users can create unique fingerprints on each browser profile, each working under its own web environment.
This means that cookies and caches from one browsing session are stored separately and aren't lumped up with others as you use the different available profiles.
The browser is specially designed to process automation and is excellent for executing affiliate marketing activities on Facebook, TikTok, and Google, along with traffic arbitrage tasks.
With Dolphin Anty, users can create several online accounts and manage them securely using multiple browser profiles.
Dolphin Anty is a feature-rich tool, so this piece wouldn't be complete without a cursory look at some of its main attributes. Here they are:
1.     Anti-detect
As an anti-detect browser, Dophin Anty lets users create multiple accounts on various platforms and websites. Affiliate marketers will find this feature handy, as it gives them the advantage as they push various products across multiple platforms.
Additionally, anyone looking to bypass geo-restrictions to access an online service or content will simply find that Dolphin Anty works quite well in this regard.
2.     Multi-account
Dolphin Anty's multi-account feature allows users to operate several accounts using one device. This is rather convenient, as it beats using multiple devices to create individual accounts.
3.     Multiple browser profiles
With Dolphin Anty, you can create multiple browser profiles, each with its unique browser fingerprint.
4.     Proxy detection
With Dolphin Anty, it's possible to enhance browsing anonymity by adding different proxies to individual accounts.
In addition, the tool comes with a single-click mobile proxy IP switch that eliminates the need to save several proxy seller references.
You can seamlessly effect a switch on the browser tab with a single click.
5.     Profile sharing
This is one of the most exciting features of the Dolphin Anty anti-detect browser.
Users can share profiles with others, enabling them to collaborate effectively with teammates.
With Dolphin Anty, it's easy to exchange and even sell a profile, complete with its data. You needn't manually import cookies or customize browser fingerprinting in a separate operation.
All your browser profile data can be bundled and shared in a few clicks.
6.     Great user experience
Dolphin Anty's feature-rich software comes with a brilliant layer of highly optimized UX. Quick bookmarks and extensions mean you don't have to spend time searching for the appropriate ones.
A dedicated cookie robot also lets you simulate active users' activities. This provides a secure framework for any operations involving platforms like Google and Facebook.
Tags,  smart notes, and statuses also contribute to the tool's user-friendly and intuitive design.
7.     Real internet-based fingerprints
As stated earlier, Dolphin Anty creates unique browser fingerprints for each profile. The software doesn't simply generate browser fingerprints.  Rather, it copies and scans actual fingerprint variables from all over the internet and generates fingerprints based on them.
As such, Dolphin Anty's generates the most secure and trusted browser fingerprints. This means that users can browse the web and not have their profiles or IPs flagged as suspicious-looking. In other words, Dolphin Anty's browser fingerprints are as close to the real thing as possible.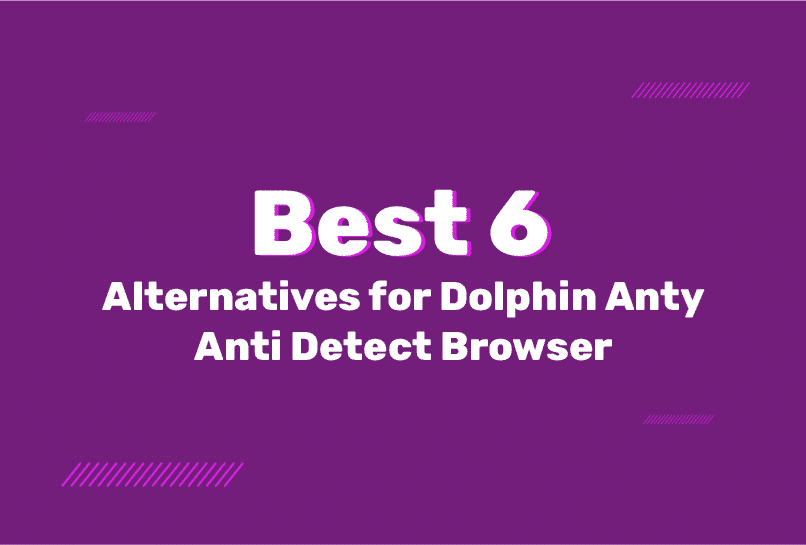 6 Best Dolphin Anty alternatives to manage multiple accounts
Given Dolphin Anty's shortcomings, it's important to emphasize that a few candidates are worthy of their salt and statuses as anti-detect browsers. Suppose you're looking for functional and highly effective alternatives to Dolphin Anty to help you manage multiple accounts and browser profiles.
In that case, you should check out the following software tools:
Incogniton
MultiLogin
GoLogin
Kameleo
AdsPower
Sphere
Of these options, Incogniton, GoLogin, and Kameleo will constitute the core of our discussion. Read on to learn about the best features of these tools and see how they compare to Dolphin Anty.
Incogniton
If you're serious about browsing privacy, Incogniton should be your go-to browser. As an affiliate marketer or dropshipper, you really can't do better than Incogniton. Its sophisticated mechanisms can help teams share browser profiles, avoid account suspension and bans, and automate several browser operations.
Let's examine its features more closely:
1.      Team accounts
Any anti-detect browser worth its reputation must have a mechanism that allows users to create and share browser profiles with team members.
Incogniton has this feature, with the capacity to share not just one, but entire clusters of profiles with teams. You can assign different roles to team members and even go on to create permissions based on what level of access you want each member to have.
2.      Multiple browser profiles
Like Dolphin Anty, Incogniton allows users to create multiple browser profiles, each one with a unique browser fingerprint.
All of this is possible from the software's dashboard, as is a structured and analytical overview of the constituent operations running in the browser.
3.      Data storage
Incogniton's cloud data storage feature comes in handy, as it means that browser data isn't stored solely on your device.
This way, you're guaranteed data recovery of your valuable browser profiles in the event that you lose the device or the hard storage crashes. All of your login details will remain safe and untraceable.
Additionally, this cloud storage feature means that you don't have to enter your login details in each browsing session manually.
4.      Data synchronization
In addition to its cloud storage feature, Incogniton lets users synchronize all browser profiles and data across multiple devices.
This means that you can access your browser profiles on another device in the event that you're not in proximity to your regular PC.
5.      Cookie management
Incogniton has a cookie collector feature that boosts browser profile reliability. Most websites create cookies that your browser stores. These cookies help to optimize your online experience by saving data regarding your browsing activity on that platform.
With cookies, websites can keep you signed in so you don't have to manually enter your details when you log in. Cookies also help your browsers remember your on-site preferences and even recommend locally relevant content.
Incogniton's cookie collector allows users to select which cookies to collect based on various parameters. For instance, you can set the cookie collector to stop the audio in certain websites from playing automatically. This can come in handy when there are multiple browser profiles running simultaneously.
Incogniton also has the ability to export or import cookies.
6.      Bulk creator profiles
Unlike some of its competitors, Incogniton allows users to not only set up multiple accounts but also to do so in bulk, simultaneously.
It's an advanced tool that allows you to create different settings for each account. For instance, you can set up separate profile names, proxy URLs, passwords, connection types, and usernames.
7.      Fingerprint generator
Incogniton's individual browser profiles each come with their own unique browser fingerprints. This consists of information curated about your user device and helps to identify your device on the internet.
Incogniton's built-in mechanism helps with fingerprint generation, so you don't have to worry about secure, anonymous browsing.
8.      Paste as human typing
Sometimes, you may have to paste certain copied text into your various browser profiles. However, websites can identify the source of the input as either typed as a human or simply copied and pasted, depending on the input speed.
Incogniton comes in handy if you want to copy and paste text and have it resemble what was hand-typed.
9.      Selenium integration
Incogniton also incorporates browser automation functionality into its overall package. Via the Selenium integration, it's possible to automate simple browser processes like having a single button click trigger a complicated login.
With so many features, Incogniton is undoubtedly one of the top choices for various categories of internet users. Among its several use cases, these are the chiefest:
1.      Social media and digital advertising
Incogniton allows you to avoid account suspension and bans, while the ability to create bulk user profiles is crucial in helping you expand your advertising reach.
2.      Dropshipping and e-commerce
Dropshippers with multiple online storefronts can use Incogniton to help them maintain these storefronts, keep front getting banned and automate several online processes.
3.      Traffic arbitrage
The Incogniton anti-detect browser helps increase earnings in the traffic arbitrage niche, making it easy to log in to multiple accounts securely.
Dolphin Anty vs. Incogniton
While we've highlighted the key features of both software, we've realized that it's far more practical to draw up a table for precise comparison. This will help you reach a quicker decision regarding which tool best suits your purpose.
Here are the differences:
| | | |
| --- | --- | --- |
|   | Dolphin Anty | Incogniton |
| Application |   |   |
| Chrome-Based Browser | ● | ● |
| Cookie management | ● | ● |
| Automations |   |   |
| Browser automation | No | ● |
| API | ● | ● |
| Bulk account creation | No | ● |
| Fingerprinting |   |   |
| Latest browser | ● | ● |
| Recent fingerprints | ● | ● |
| Workflows |   |   |
| Extensions | ● | ● |
| Bookmarks | ● | ● |
| Proxy manager | ● | ● |
| Password manager | ● | ● |
| Proxy deals |   |   |
| Mobile | No | ● |
| Datacenter | No | ● |
| Residential | No | ● |
| Billing |   |   |
| Crypto payment | ● | ● |
| Card payment | ● | ● |
| Free trial | ● | ● |
| Free profiles | No | ● |
| Customer support |   |   |
|   | NA | Highly responsive |
Pricing
In this section, we'll examine the pricing details for both software tools.
Incogniton
The Incogniton anti-detect browser is available for Windows and macOS. Users can choose to be billed monthly or after 6 months. There's currently a 30% discount on the latter billing option.
There are four plans available:
Free. Here, users can save up to 10 different browser profiles, while having access to the regular customer support service
Entrepreneur. This plan costs $29.99 per month and allows users to save up to 50 browser profiles. Besides, there's Selenium integration, API access, and access to premium customer support
Professional. Costing $79.99 monthly, this plan supports 150 browser profiles and three team member seats in addition to all the features of the entrepreneur plan.
Multinational. This plan supports up to 500 browser profiles and 10 team member seats, in addition to the entrepreneur plan's features.
Having examined some of the key features of Incogniton and Dolphin Anty, it's safe to say that Incogniton trumps its competitor for the following reasons:
Bulk account creation
This feature is quite handy, as it saves users a lot of time when setting up multiple accounts. Also, there's plenty of customizability for various user roles and their respective permission levels.
Pricing
For a tool that offers far fewer features than Incogniton, Dolphin Anty is quite on the pricey side. Although both software tools have free plans, Incogniton appeals more as you're sure to get more bang for your buck.
Try 10 browser profiles for free on Incogniton!
Browser automation
Incogniton supports Selenium for its automation, which can help speed up several operations, making it a more appealing choice for users seeking efficient workflows.
Proxy deals
Incogniton comes with several proxy options (including rotating proxies) for added privacy and browsing security. There are various proxies available, including mobile, residential, and data center proxies across the globe, that you can pay for in addition to your regular Incogniton subscription package.

Dolphin Anty
Dolphin Anty is available for Windows, macOS, and Lixus. It has a free trial for each of its four plans, although the trial lasts for just four days. However, users can pay for six months in one go and enjoy a 20% discount.
Free: The free plan allows users to save ten browser profiles.
Base: This plan costs $89 per month and comes with the capacity to save 100 browser profiles and add users to a team.
Team: Small teams can benefit from this $159 per month plan that allows you to save 300 browser profiles and add users to a team.
Enterprise: The enterprise plan is quite flexible, allowing you to choose at least 1000 browser profiles. To access 1000 profiles, the price is $299, which gets progressively higher with more browser profiles added.
Multilogin
Multilogin is one of the best alternatives to Dolphin Anty,  as it performs much the same functions, with some added functionality of its own.
Multilogin is specially optimized for e-commerce, as it's guaranteed to help your business scale greatly. Moreover, you can optimize sales across your online storefronts.
Pros
Both Chromium and Firefox-based browsers available
AWS cloud-encrypted data
Dual stealth browsers supported: Mimic and Stealthfox
Cons
No Android app
Costly pricing plans
No free trial
GoLogin
GoLogin works by enabling users to conceal and control their digital fingerprint imitating all the parameters visible to websites. This way, it becomes possible to imitate an actual internet identity and bypass anti-fraud mechanisms.
With GoLogin, you can create several browser profiles, each with its own digital fingerprint.
GoLogin is not limited to a few devices, as it's operable across an unlimited number of devices. Apart from that, you can operate the software via other web browsers and operating systems like macOS, Linux, and Windows.
Pros
Intuitive user interface
Integration with Tor
Free proxies
Cons
No free plans
Cannot run as many browser profiles simultaneously as other competitor software
Kameleo
Kameleo is another popular option that's a cross between GoLogin and MultiLogin as regards functionality.
Kameleo boasts support for all the major web browsers, including Edge, Chrome, Firefox, and Safari.
Its browser fingerprinting generation technique is similar to Dolphin Anty's in that it takes regular fingerprints from the internet and tweaks them. Like Incogniton, it has support for automation using the Selenium web driver.
Pros
Support for Android
Multi-browser support
Cons
Conclusion
For every friendly pen pal and enthusiastic customer you interact with online, there are twice as many shady figures whose sole intent is to steal your sensitive details. This is why you need an anti-detect browser — to provide you with some much-needed privacy and anonymity while surfing the internet.
But as you may have noticed, that's not the only instance where anti-detect browsers come in handy. Digital marketing campaigns can greatly benefit from tools like Dolphin Anty and Incogniton, as these tools help them streamline their workflows and optimize their processes.
With so many anti-detect browser options to choose from, you need to ensure you're paying for the right tool. Whether you're into managing multiple storefronts, doing Traffic arbitrage, looking to improve your eCommerce sales, or managing social media campaigns, it's essential that the tool you choose delivers your needs, precisely.
So far, Incogniton has proven to be the most reliable and it ticks all boxes. Try out Incogniton's 10 free browser profile offer and see for yourself.
Anti-Detect Browser for Multi-Account Management
Manage unlimited virtual profiles for easy multi-account management. Safe and anonymous. Ideal for teams and individuals. Download and try for free now!